There are many spray adhesives on the market. Using inferior quality adhesives on the fabrics can ruin the fabric beyond use. What kind of fabric spray adhesive is the best? Each one has its own strengths and weaknesses. Therefore, you need to know "Which spray adhesive is best for your projects." It is a doubt in many people's minds, but maybe the following content can bring you a good choice.
Let's see our Best Temporary Fabric Adhesive Spray.
Sprayidea 82 Low VOC Embroidery Spray Adhesive
Sprayidea 82 Low VOC Embroidery Spray Adhesive plays a significant role in various temporary bonding applications like applique, quilting, sewing, basting, handicrafts, etc. Ideal for baby cloth, underwear, foam, and other light weight materials.
Price from $2/ounce.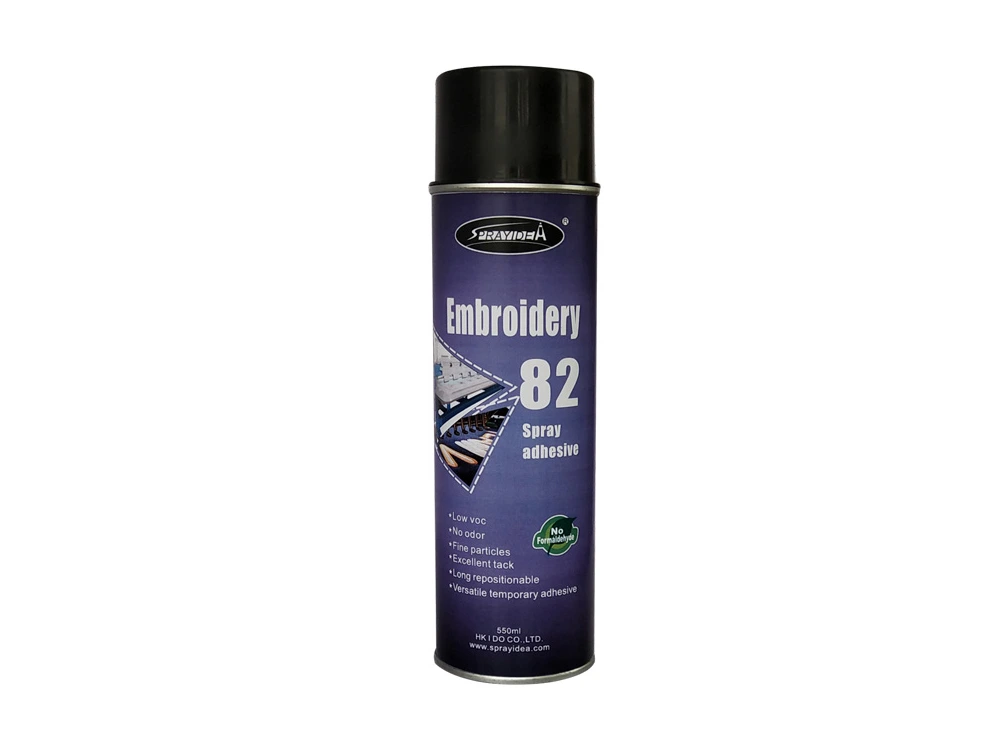 Features:
Low VOC, low odor;
Providing sufficient time for relocatable operations;
Transparent glue, suitable for all Color fabrics;
Strong tack;
Also good for children's clothes.
While using spray adhesives is pretty simple, it can be frustrating trying to pick out the right one. There are so many products on the market that it's hard to figure out which ones are worth buying and which ones aren't. You might be wondering: Will this adhesive stick? Does it have a strong hold? Will it damage the fabric? These are all very legitimate concerns.
Sprayidea 82 might be your best choice. This product is environmentally friendly: No CFCs and meets US CARB standards. It will not cause any damage to the fabric and is designed for high-grade temporary bonding of baby cloth, underwear, foam, and other light weight materials.
At the same time, Sprayidea 82 has a strong tack. The spraying area is large, and the atomization effect is excellent. It is easy to pour and lay and not easy to wrinkle and fold on the machine. And it will not fall off easily.
Last but not least, another advantage is that it saves fixing time, for it can be positioned repeatedly within 30-60 s. 
Sprayidea 95 Wind Power Spray Adhesive
This adhesive is a special vacuum-infusion-specific adhesive, temporarily holding fiberglass and carbon fiber to themselves or other molded fabrics during the vacuum infusion process and resin transfer molding. Its extensive range of applications involves in wind turbine blades, yacht manufacturing and aerospace.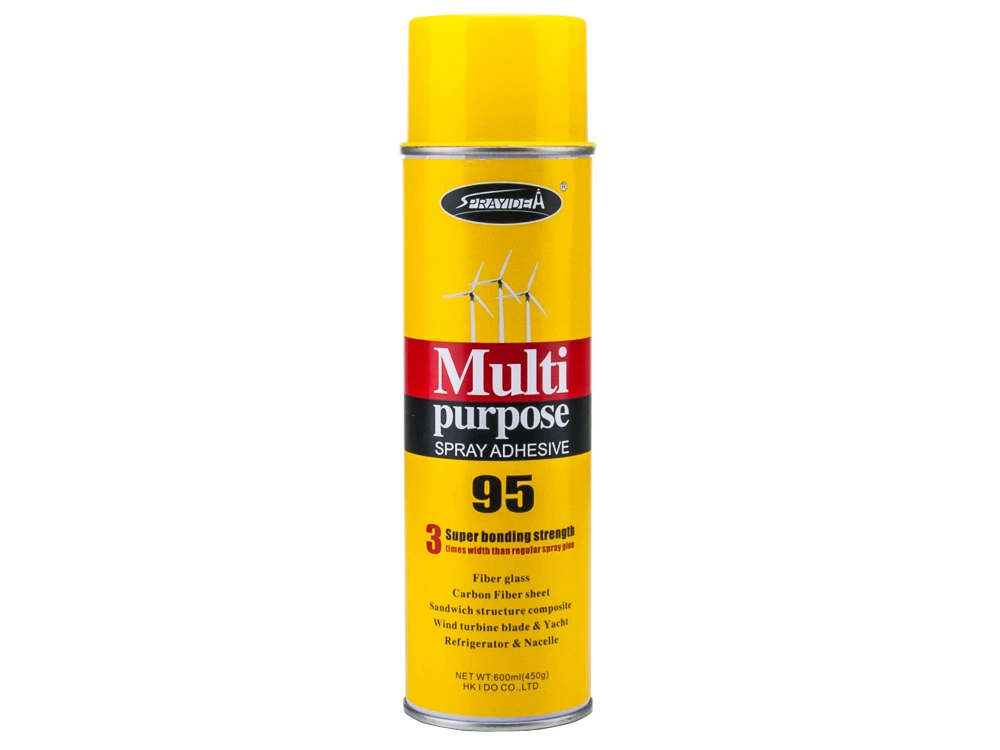 Features:
Suitable for large projects and vacuum forming process
Repeatable layering and positioning, with long bonding time
Good adhesion to a variety of substrates and strong viscosity
Well dissolved in epoxy resin, good atomization effect, no white spot
If poor quality temporary spray glue is used on the fabric, it may not be able to provide the adhesion required by the fabric itself, and the effect is minimal, or even cause the fabric itself to be destroyed. Therefore, one of the best temporary textile spray is not only able to achieve operability and long time without damaging the effect of the fabric. And our Sprayidea 95 Wind Power Spray Adhesive is an ideal temporary fabric spray adhesive.
SprayideaDY-100 Repositionable Temporary Tacky Spray Adhesive For Fabric
Sprayidea DY-100 is the best temporary fabric adhesive spray for embroidery, quilting, applique, basting and other temporary bonding. It is a temporary adhesive, formulated to keep steady firm the fabric during embroidery or cutting work, will not gum needles.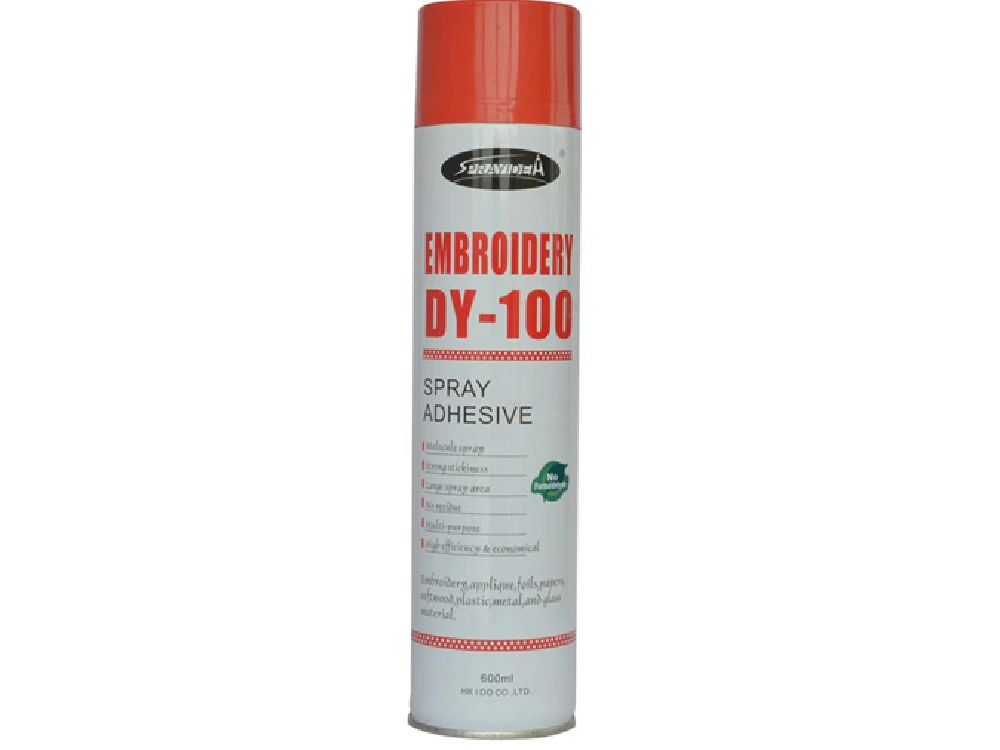 Features:
Long "open time" for repositioning.
Odorless and colorless and will be friendly to the environment.
Non-staining, not stick to sewing machine needles while sewing a project.
SGS non-toxic test approval, no chlorinated solvents, no CFCs, formaldehyde free.
Suggested retail price from 1.6 $/ounce
How to choose high-quality spray adhesive for fabric?
Here are some things to consider when looking for the best spray adhesive for fabric.
Why choose a repositionable one? That's because it's challenging to do a one-off paste during computerized embroidery or hand crafting, so being able to reposition it is critical.
Odorless is one of the criteria to verify whether this spray glue is environmentally friendly
Due to one of the purposes of aerosol adhesive is to simplify our life, so the spray adhesive must be more convenient.
Conclusion:
How to choose the best temporary fabric spray glue?
The spray glue for fabric needs to meet the following requirements to be considered as a good glue.
Environmental protection, non-toxic, low odor, will not harm human health.
 Long operability time can be repeated positioning.
 Good adhesion will not break the fabric itself.
To Sprayidea, all glues of their used for fabrics have low VOC. Greatly reduce the impact of formaldehyde on the human body. This not only ensures the safety of the glue used but also provides safety guarantees for subsequent fabric consumers. And its long operability time, which increases the flexibility of operation.
Sprayidea can meet your needs for bonding fabrics.