Applications
Sprayidea 92L Classic Multipurpose Spray Adhesive is a effective for a wide range of lightweight materials, like paper, cardboard, fabric and cushion foam to plastic, metal, wood and more. Applied to photo frame, home improvement, repairing projects, attaching fiberglass insulation and so on.
Specification
| | | | |
| --- | --- | --- | --- |
| Item No.: | Sprayidea 92L | Size: | 450g/550ml |
| Package: | 24 pieces/carton | Bonding: | Temporary & Permanent |
| Spray pattern: |  Mist | Effect time: | 30-60 seconds |
| Shelf life: | 24 months | Country of Origin: |  China |
| Color: | Clear | Scent: |  Low odor |
| Remain tacky for: |  45 minutes | Temperature resistance: |  -30℃to 65℃ |
Features
Fine uniform particles, strong tack for flat or curved surfaces
Supports both temporary or permanent bond
Large cover area,2 times compared with the similar general products
15-20 minutes open time, more flexibility to process
No triphenyl,formaldehyde-free,eco-friendly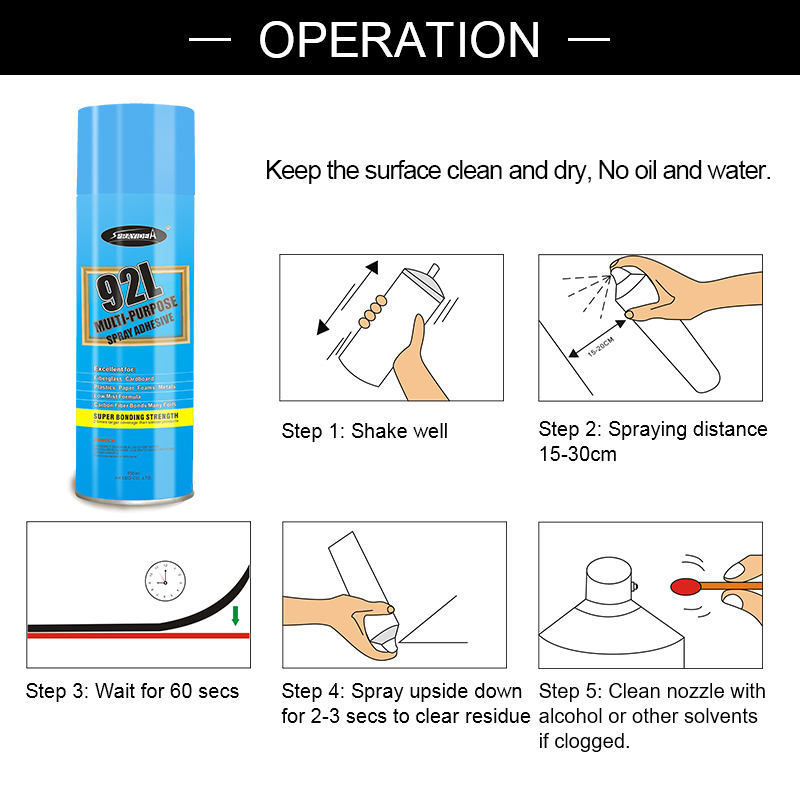 Keep the surface clean and dry, no oil and water.
Please shake well before use, to achieve the best effect.
Evenly spray the glue for a distance of 15-30 cm to the adhesive surface.
After using please keep the can down, spray about 2 to 3 seconds to avoid nozzle clogged, the best temperature of using this product is 15℃~35℃.
Clean nozzle with alcohol or other solvents if clogged.
Caution
Pressurized packing, may be explosive in high temperature.
Keep well-ventilated, avoid the glue contacting with skin when using.
Should be stored in well-ventilated, dark, cool, dry place.
Do not store above 49℃, recommended storage at below 30℃.
Keep the children away from it ,spray the adhesive out completely before you throw it away.
When the adhesive contacted with skin or eyes, please clean with water. Serious please go to the doctor immediately.