Applications of stencil spray adhesive
Hold Fast stencil Spray Adhesive belongs to SBS all-purpose glue. It is suitable for bonding various light materials to themselves or other substrates. Spray adhesive for stenciling is a clear misty spray that offers you an unmatched experience in your projects!
| Item No.: | Sprayidea 35 | Size: | 450g/550ml |
| --- | --- | --- | --- |
| Package: | 24 pieces/carton | Shelf life: | 24 months |
| Bonding: | Permanent | Scent: | Low odor |
| Effect time: | 30-60 seconds | Spray pattern: | Mist |
| Temperature resistance: | -30℃to 65℃ | Anti-aging: | 3-5 years |
| Color: | Clear | Advantage: | Instant bonding |
Features of Spray adhesive for stenciling
Fast drying, instant and permanent bonding;
Environment-friendly, non-toxic, certified by SGS;
Easy operation, replacing traditional brush or roll;
Good performance and good vibration resistance, suitable for large area construction.
Maybe you want to get more choices for spray adhesive, please contact us! Anyway, as a manufacturer, we will definitely be able to give you the best quality service
Instruction of removable spray adhesive for stencils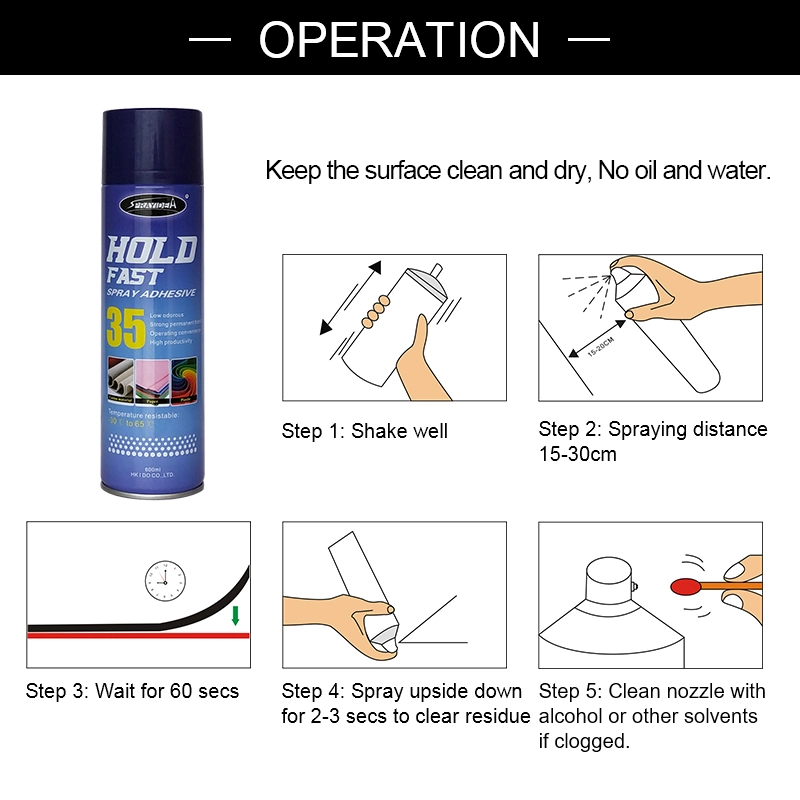 Keep the surface clean and dry, with no oil and water.
Please shake well before use, to achieve the best effect.
Evenly spray the glue for a distance of 15-30 cm to the adhesive surface.
After using please keep the can down, and spray for about 2 to 3 seconds to avoid the nozzle being clogged. The best temperature for using stencil spray adhesive is 15℃~35℃.
Clean the nozzle with alcohol or other solvents if clogged.
Caution
Pressurized packing, may be explosive in high temperatures.
Keep well-ventilated, and avoid the glue from contacting with skin when using.
Should be stored in a well-ventilated, dark, cool, dry place.
Do not store above 49℃, recommended storage at below 30℃.
Keep the children away from it, and spray the adhesive out completely before you throw it away.
When adhesive contact with the skin or eyes, please clean it with water. Seriously please go to the doctor immediately.