Video Display Of The Performances Of Headliner Adhesive Spray
High temperature resist heavy duty marine car headliner spray adhesive securely bonds heavyweight automotive fabrics to metal surfaces, creates a secure hold for headlines, carpet, foam and other materials.
Dries clear for neat appearance
Resistant to extreme weather conditions; water-resistant
High temperature formula maintains high strength at temperatures up to 120°C
The car headliner spray adhesive is especially effective in repairing automotive & marine headliners
Technical Details of Car Headliner Spray Adhesive
| | | | |
| --- | --- | --- | --- |
| Name | Headliner adhesive spray | Spray Pattern | Web |
| Brand | sprayidea | Effect time | 3-5 minutes |
| Model | 97 | Coverage | 5-6 sq/bottle |
| Package | 24 pcs/carton | Temp resist | -30℃-120℃ |
| Shelf life | 24 months | Anti-aging | 5-6 years |
| Scent | lowodor | Strength | 6000-7000mPa.s/25℃ |
| OEM | Available | Composition | NO CFCS |
The Description of Automotive Headliner Adhesive Spray
The car headliner adhesive spray is designed for repairing interior parts of the car or marine which have become detached or loosened. The glue for headliner in car can maintain high strength at temperatures up to 120°C.
Car headliner adhesive spray excels at attaching auto & boat & marine upholstery cloth, carpeting, floor mats, insulation, kick and silencer pads to metal, wood or KB board. Because of its exceptional strength, when it bonds heavyweight automotive headliners, it keeps the headliner from falling off for a long time.
1.   Exceptional strength bonds heavyweight automotive headliners
2.   Versatile formula effectively bonds headliners to metal and plastic
3.   Aerosol can dispenses a controlled, even layer on surfaces
4.   Recommended for automotive & marine headliners
5.   Formula dries in 30 to 60 minutes
6.   High temp resistance up to 120°C
Benefits of Automotive Headliner Adhesive Spray
1. Save time. You will save time by using heavy duty headliner adhesive spray to repair your car's existing headliner in place and avoid the hassle.
2. Cheaper alternative. Buying and installing a new headliner can be costly and time-consuming.
3. Use it on other interior materials. Such as leather, foam, rubber, fabrics, etc.
4. Last a long time. This headliner repair spray adhesive provides a long-term solution to a droopy headliner. You won't need to apply  the  adhesive right away like you might need to with other, more temporary solutions.
5. An easy DIY project. Reattaching your headliner fabric is something you can easily do in your own garage.
Dual spray pattern
Web spray can features the unique "Regulator Spray" nozzle by turning the nozzle to light, medium or heavy, the width of the spray stream increases or decreases. This allow for extreme accuracy when you need to apply a fine or heavy amount of adhesive.At the same time, the flexible nozzle can rotate in any direction, making it more convenient and easy to use.


Instruction manual for adhesive spray for car headliner
The auto headliner adhesive spray may attack some plastics or painted surfaces. Masking tape can be used to protect these areas, but should be removed immediately after application.
Make sure all surfaces are clean, dry and free from any contaminates.
Shake can well before use.
Turn nozzle to select spray pattern width: low, medium or high.
Hold can 6-8 inches from work surface.
Allow headliner spray adhesive to dry for 3 – 5 minutes, or until tacky, before setting.
Press surfaces together with uniform pressure, eliminating air pockets. Bonds should be made within 30 minutes of application. Full cure is achieved in 24 hours.
To prepare can for next use, invent, and dispense until spray is free of adhesive.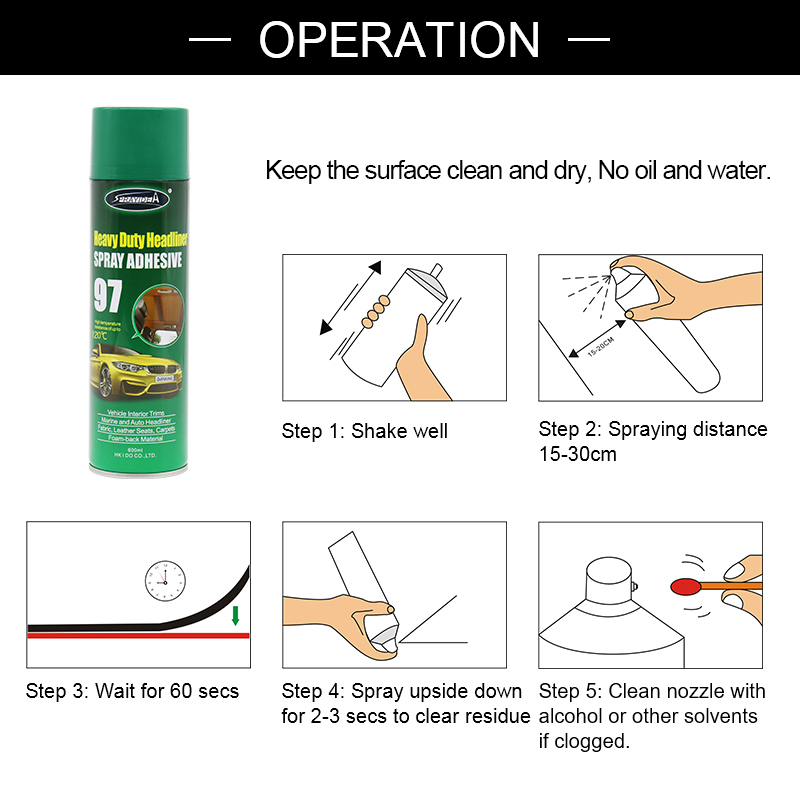 Cautions of Headliner Glue for Cars
Pressurized packing, may be explosive in high temperature. Keep well-ventilated, avoid the glue contacting with skin when using.
Should be stored in well-ventilated, dark, cool, dry place.
Do not store above 49℃, recommended storage at below 30℃.
Keep the children away from it ,spray the adhesive out completely before you throw it away.
When the adhesive contacted with skin or eyes, please clean with water. Serious please go to the doctor immediately.
If you don't know how to glue car headliner, you can see it in our blog.
Customer Q&A
Q1. Are you a Trader or Manufacturer?
We are a professional aerosol spray manufacturer with 21 years experiences, mainly produce embroidery spray adhesive, spot lifter, lubricant oil, cleaning products,etc.
Q2. Can I get a sample?
Yes we provide free samples for quality testing but you need pay for the delivery cost. When you place an order, we will refund all your spending on samples.
Q3. How to store?
Keep the headliner spray adhesive out of touch of children, store in cool dry and well ventilated place. The best storage temperature should below 50 ℃.