Super Long open time fabric Embroidery Adhesive Details
Permanent 600ml strong long open time embroidery adhesive is suitable for embroidery, formulated to keep steady firm the fabric during embroidery or cutting work,will not gum needles.It is used for machine applique,quilting,basting and other temporary bonding.
Learn more about Sprayidea 99 Embroidery Adhesive 
Sprayidea 88 Embroidery Spray Adhesive is a strong-sticky adhesive perfect for applique, quilting and some handicraft etc. It works well in temporarily bonding lining to the back of clothing, and also can be used to hold appliques to fabric prior to sewing or embroidery.
Features
Odorless Garment fabric embroidery adhesive with features
-Permanent or temporary bonding are available.
-Has a long "open time" for repositioning.
-Ideal for white fabric
-Has a very low odor.
-Non-staining,not stick to sewing machine needles
-SGS Non-toxic test approval,no chlorinated solvents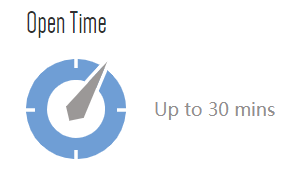 Specification
Brand                                             

Sprayidea

Product Name

Long open time embroidery adhesive Sprayidea 99

Volume

550ml

Spray pattern

Mist

Color                                                   

Transparent,other color also we can do as customer's requirements

Composition

No CFCs

Product form

Can

Package information

24 Ca

ns per case

Shelf life

24 months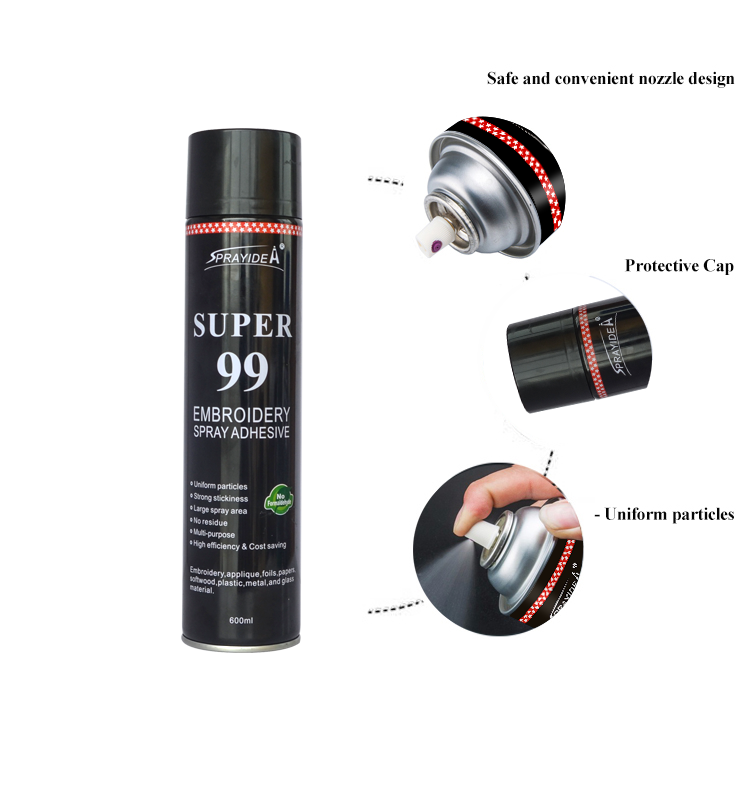 Description
Applique spray adhesive for quilting & embroidery is acid free and does not contain CFCs. Spray adhesive for fabric is a temporary, repositionable adhesive used to bond fabric temporarily. does not gum sewing needles.
Use for machine applique, quilting, basting, holding fabric to stabilizers in machine embroidery and hemming. Applique spray adhesive can avoids basting and the need for pins.
Used while sewing, it holds fabric in place with precision. No crinkling or pleating when quilting. Does not gum needles nor stain fabric.
Instruction
Application
Applique embroidery

Embroidery working

Cutting work

Suitable for thin film and paper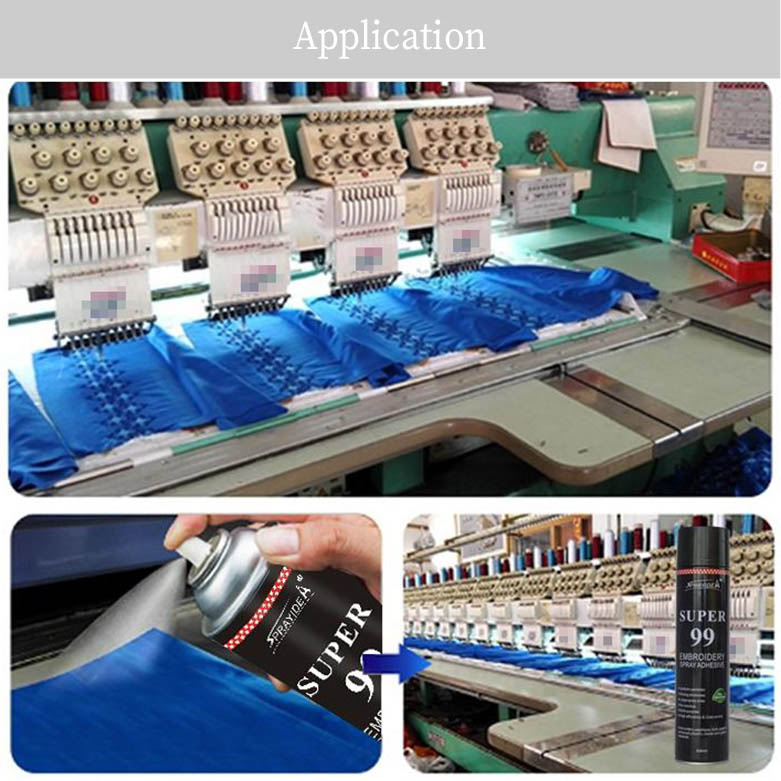 How to use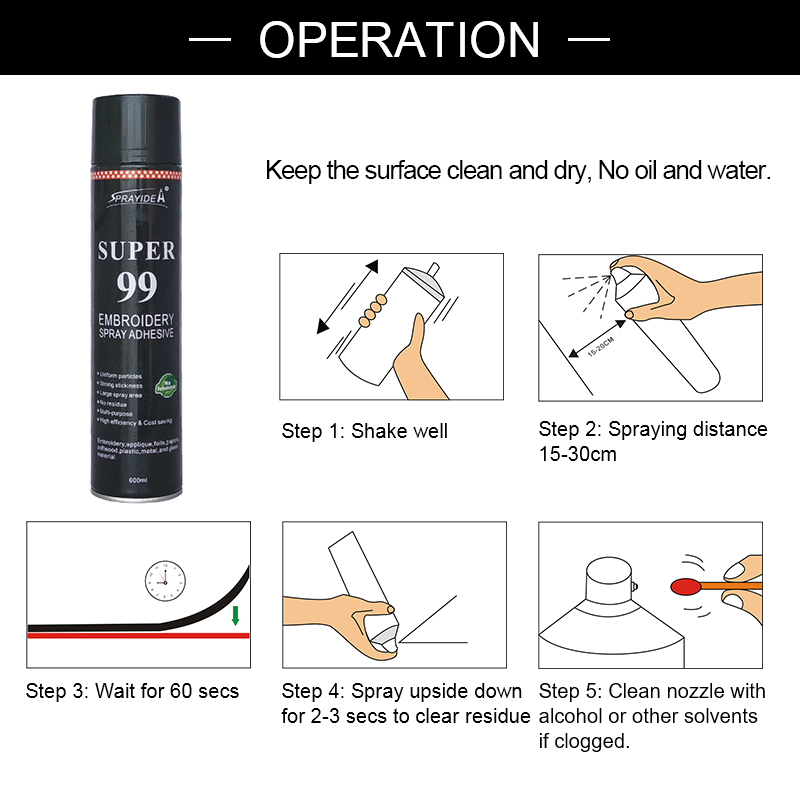 Work on a protected surface.
Shake well. Always pre-test on material before starting the project.
Hold can 12'' from the surface and spray lightly.
Press sprayed surface into position while adhesive is tacky.
To remove adhesive – dry clean.
Caution
Pressurized packing, may be explosive in high temperature. Keep well-ventilated, avoid the glue contacting with skin when using.
Should be stored in well-ventilated, dark, cool, dry place.
Do not store above 49℃, recommended storage at below 30℃.
Keep the children away from it ,spray the adhesive out completely before you throw it away.
When the adhesive contacted with skin or eyes, please clean with water. Serious please go to the doctor immediately.
Sprayidea Service
Domestically and globally Sprayidea solely work with a dealer network for sales.
OEM & ODM are available.
Sample can be send to be customers tested.
Welcome to be Sprayidea's sole agents.