Applications of upholstery spray adhesive
Sprayidea 36 Low VOC Upholstery Spray Adhesive is designed for general upholstery and foam lamination. Ideal for attaching foam and fabric to wood and other substrates, installing acoustics panels. It is capable for bonding a wide range of materials including paper, cardboard, plastic, metal, wood, and more.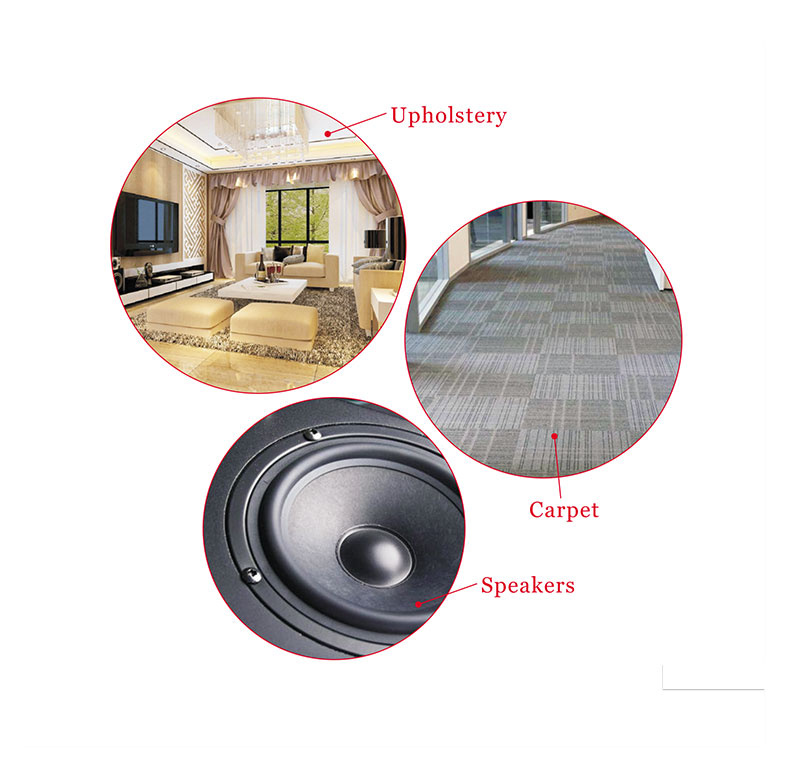 Specification of foam spray adhesive
| | | | |
| --- | --- | --- | --- |
| Item No.: |  Sprayidea 36 | Size: | 450g/550ml |
| Package: | 24 pieces/carton | Shelf life: | 24 months |
| Bonding: | Permanent | Scent: |  Low odor |
| Effect time: | 30-60 seconds | Spray pattern: | Web |
| Temperature resistance: |  -30℃to 65℃ | Anti-aging: | 3-5 years |
| Color: | White | Coverage: |  8-12㎡ |
Description
Low voc spray adhesive is designed for CA market and others who have request for voc content specially. The carpet spray adhesive is ideal for attaching general upholstery materials and other porous materials to themselves and other substrates like wood, leather, fabric, metal and more. Very good to install carpet underlays.
This industrial grade low VOC spray adhesive will release a quick and aggressive tack as soon as sprayed out, keeps your project moving forwarder. High solid content promises a low soak-in property which is friendly to all foam backed materials and other soft substrates.
Features
Fast aggressive tacking industrial grade adhesive;
VOC compliant to CARB standard;
Flexible webbing spray pattern ;
No corrosion to foam.
Warnings: Flammable gas! Content under pressure! Eye irritant! Avoid direct sunshine, open fire or source of ignition! Store below 50℃! Keep out of reach of Children! Spray out completely before recycle!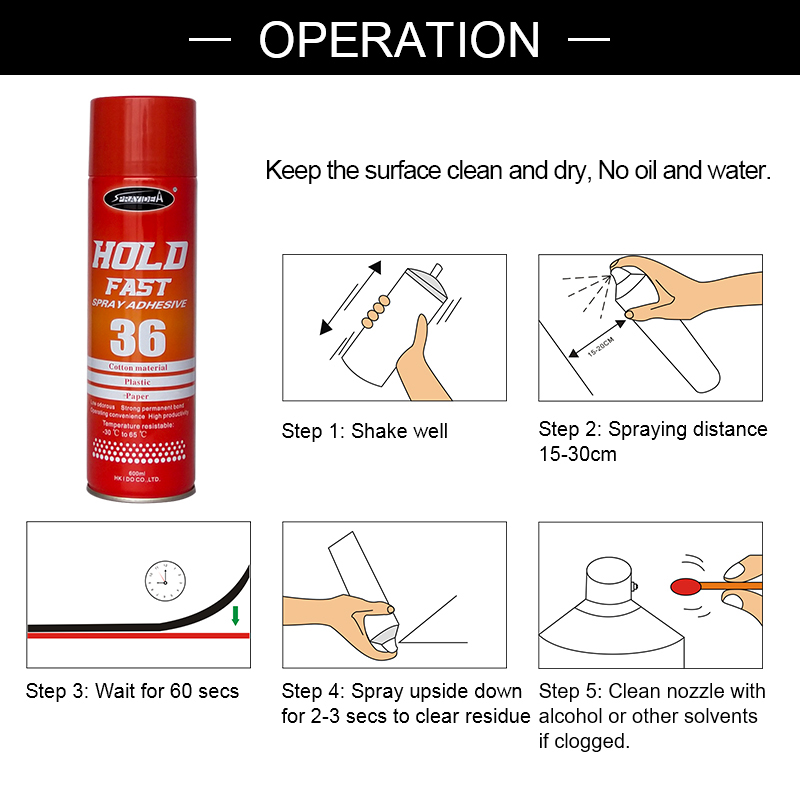 Keep the surface clean and dry, no oil and water.
Please shake well before use, to achieve the best effect.
Evenly spray the glue for a distance of 15-30 cm to the adhesive surface.
After using please keep the can down, spray about 2 to 3 seconds to avoid nozzle clogged, the best temperature of using this product is 15℃~35℃.
Clean nozzle with alcohol or other solvents if clogged.
Caution
Pressurized packing, may be explosive in high temperature.
Keep well-ventilated, avoid the glue contacting with skin when using.
Should be stored in well-ventilated, dark, cool, dry place.
Do not store above 49℃, recommended storage at below 30℃.
Keep the children away from it ,spray the adhesive out completely before you throw it away.
When the adhesive contacted with skin or eyes, please clean with water. Serious please go to the doctor immediately.