Applications
Sprayidea 95 Wind Power Specialty Spray Adhesive is a vacuum-infusion -specific adhesive, temporarily holding fiberglass and carbon fiber to themselves or other mold surfaces during vacuum infusion process and resin transfer molding. Most importantly, infusion spray adhesive will not interfere with the curing process of vinyl esters, polyesters or epoxy resins. In fact, the adhesive is designed to ultimately become a part of the polymer matrix, it cross links with the resin as it flows through and leaves no contaminants.
Sprayidea95 RTM process Hi Tack Composites Spray adhesive is specially designed to hold reinforcing fibers together during the infusion process firmly. It works with most resin systems, including polyester, vinyl ester, and epoxy. This adhesive won't interfere with the curing process of vinyl esters, polyesters, or styrene resins and will ultimately become part of the polymer matrix. It is suitable for large projects like aerospace, yacht, wind blade, etc.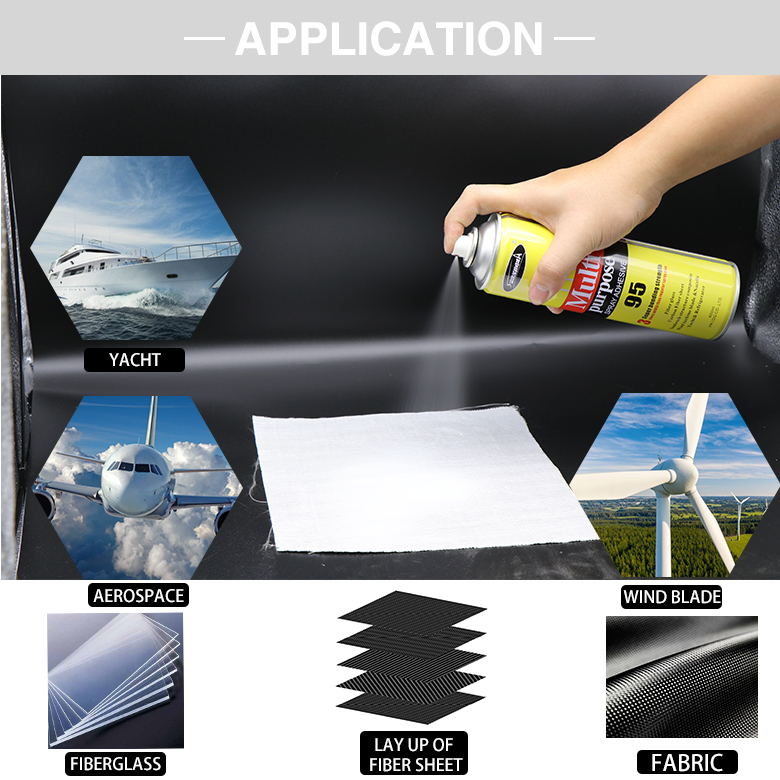 Lay up of fiber sheets
Dry lay up and infusion process-Bonding layered composite assemblies
Ideal for infusion/vacuum forming composites
Bonds fiberglass, carbon fabric, Acrylic and more
Specification
| | | | |
| --- | --- | --- | --- |
| tem No.: | Sprayidea 95 | Size: | 450g/550ml |
| Package: | 24 pieces/carton | Bonding: | Temporary |
| Spray pattern: |  Mist | Effect time: | 30-60 seconds |
| Shelf life: | 24 months | Country of Origin: |  China |
| Color: | Clear | Scent: |  Low odor |
| Remain tacky for: |  60 minutes | Temperature resistance: |  -30℃to 65℃ |
Features
Sprayidea95 Multipurpose Hi Tack Composites Spray Adhesive suitable for the Aerospace, Yacht, and Wind blade production industry with features.
Good adhesion to a variety of substrates.
Can be applied quickly;
Excellent properties, cost-effective;
Longer tack-up work time allow some position adjustment before setting;
Suitable for large projects;
Formulated to match adhered materials acting to the strength of the finished parts.
Instruction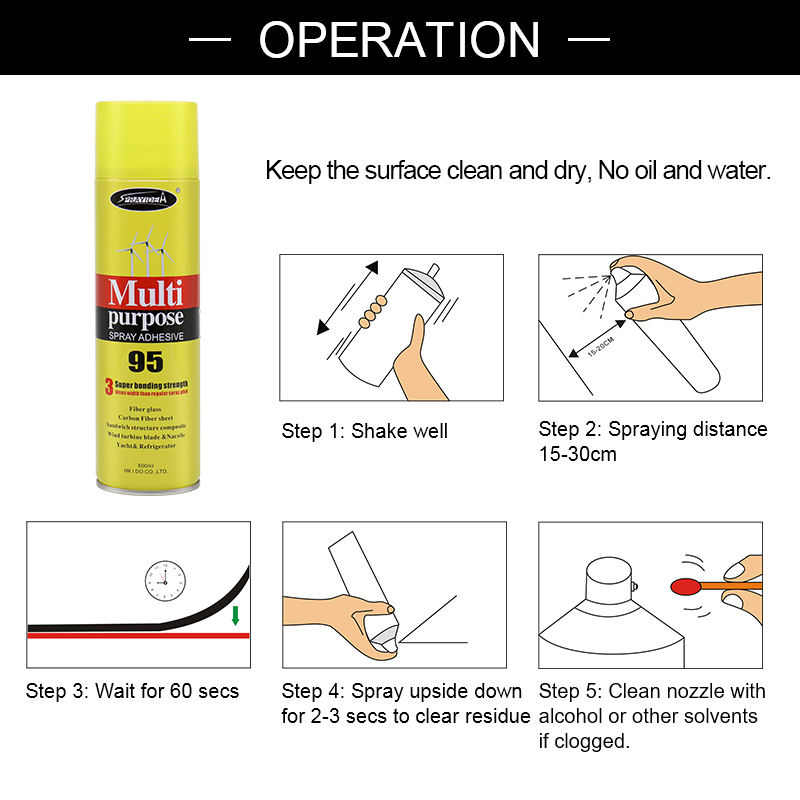 Keep the surface clean and dry, no oil and water.
Please shake well before use, to achieve the best effect.
Evenly spray the glue for a distance of 15-30 cm to the adhesive surface.
After using please keep the can down, spray about 2 to 3 seconds to avoid nozzle clogged, the best temperature of using this product is 15℃~35℃.
Clean nozzle with alcohol or other solvents if clogged.
Caution
Pressurized packing, may be explosive in high temperature.
Keep well-ventilated, avoid the glue contacting with skin when using.
Should be stored in well-ventilated, dark, cool, dry place.
Do not store above 49℃, recommended storage at below 30℃.
Keep the children away from it ,spray the adhesive out completely before you throw it away.
When the adhesive contacted with skin or eyes, please clean with water. Serious please go to the doctor immediately.
Sprayidea Service
Domestically and globally Sprayidea solely work with a dealer network for sales
OEM&ODM are available
Sample can be send to be customers tested.
Welcome to be Sprayidea's sole agents.