Applications
Repositionable mounting spray will stick and re-stick over and over. It provides a light tack in seconds and dries clear. Specially formulated for use with projects where permanent adhesion but long term repositioning is needed. Use on light tissue, wood projects, newsprint, foils and acetates.
| Item No.: | Sprayidea 668 | Size: | 7.3kg/18L or 8kg/18L |
| --- | --- | --- | --- |
| Package: | 1 barrel/carton | Effect time: | 1-3 minutes |
| Shelf life: | 6 months | Spray pattern: | Liquid |
| Composition: | No CFCs | Country of Origin: | China |
Features
Acid-free, photo-safe
Allows for repositioning
Fast drying, and dries clear
Won't bleed through
Specially formulated extra strength complex
Dries permanent and clear with a fast tack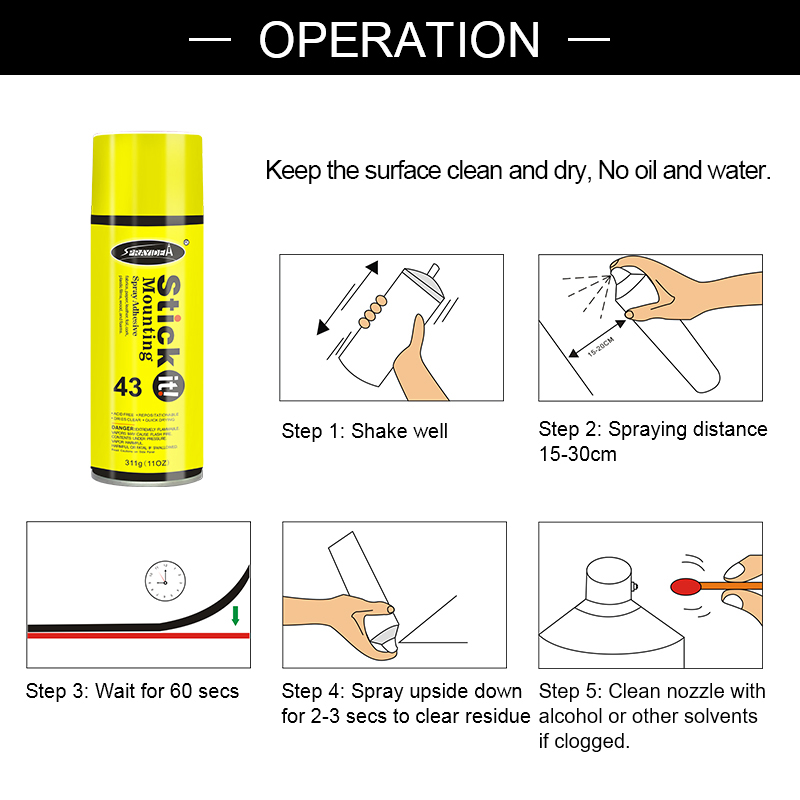 Keep the surface clean and dry, no oil and water.
Please shake well before use, to achieve the best effect.
Evenly spray the glue for a distance of 15-30 cm to the adhesive surface.
After using please keep the can down, spray about 2 to 3 seconds to avoid nozzle clogged, the best temperature of using this product is 15℃~35℃.
Clean nozzle with alcohol or other solvents if clogged.
Caution
Pressurized packing, may be explosive in high temperature.
Keep well-ventilated, avoid the glue contacting with skin when using.
Should be stored in well-ventilated, dark, cool, dry place.
Do not store above 49℃, recommended storage at below 30℃.
Keep the children away from it ,spray the adhesive out completely before you throw it away.
When the adhesive contacted with skin or eyes, please clean with water. Serious please go to the doctor immediately.