Applications
Sprayidea 80 Temporary Spray Adhesive For Stencils is repositionable adhesive with long-lasting low tack for materials to be repositioned repeatedly. Suitable for bonding paper, cardboard, foils, fabrics, plastic sheet, etc. to wood, glass, wall stencils, foam, rubber and themselves. Dries clear, resists wrinkling on most materials, also will not damage the materials. Can be used in cutting rooms for holding the patterns temporarily. It is also used for posters, drawing and others on walls for display. This product has multiple uses in many industries and daily life.
Specification
---
Item No.:

8

0

Size:

450g/550ml

Package:

24 pieces/carton

Particle:

Fine

Spray pattern:

 Mist

Effect time:

30-60 seconds

Shelf life:

24 months

Country of Origin:

 China

Color:

Clear

Scent:

 Low odor

Anti-aging:

 3-5 years

Temperature resistance:

 -30℃to 65℃
Features
1.Long-lasting low tack to peel up easily for lifting and repositioning materials.
2.Fast tack and easy to use.
3.Bonding materials to most surfaces, without wrinkling or damaging.
4.Dries clear, provides a clean appearance.
5.Eco-friendly and low odor
Instruction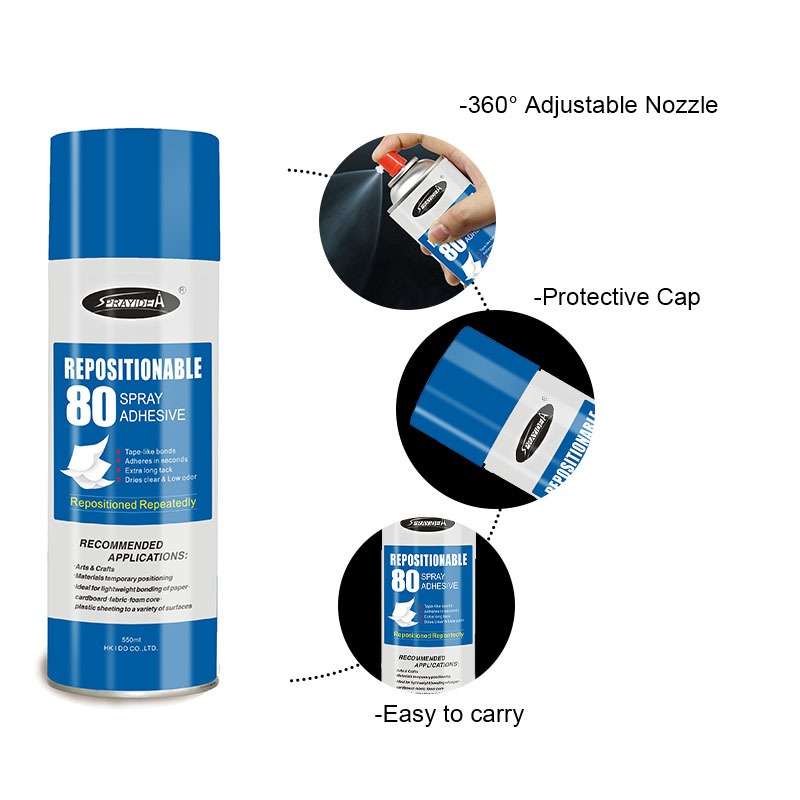 Keep the surface clean and dry, No oil and water.

Please shake well before use, to achieve the best effect.

Evenly spray the glue for a distance of 15-30 cm to the adhesive surface.

After using please keep the can down, spray about 2 to 3 seconds to avoid nozzle clogged, the best temperature of using this product is 15℃~35℃.

Clean nozzle with alcohol or other solvents if clogged.
Caution
Pressurized packing, may be explosive in high temperature. Keep well-ventilated, avoid the glue contacting with skin when using.

Should be stored in well-ventilated, dark, cool, dry place.

Do not store above 49℃, recommended storage at below 30℃.

Keep the children away from it ,spray the adhesive out completely before you throw it away.

When the adhesive contacted with skin or eyes, please clean with water. Serious please go to the doctor immediately.