Applications
Silicone thread lubricant is designed for textile and embroidery industry, this product is high purity misty silicone oil used for cannetille or sewing thread. It can prevent thread from breakage, jumping, and have good lubricating and heat dissipation functions. They are suitable for any woven fabrics, including cotton, linen, wool, synthetic fiber, velvet, etc.
Specification
| | | | |
| --- | --- | --- | --- |
| Item No.:           | Sprayidea F-20 | Size:                   | 530g/730ml      |
| Package: | 12 pieces/carton | Color: | Clear |
| Shelf life: | 24 months | Scent: | Low odor |
Features
1.  Abrasion resistant, reducing thread breakage, help prolong thread working life;
2. Anti-Static, high purity and misty silicone oil ;
3. Drying fast, forming a durable smooth coating after spray;
4. Does not corrode materials, eco-friendly.
Instruction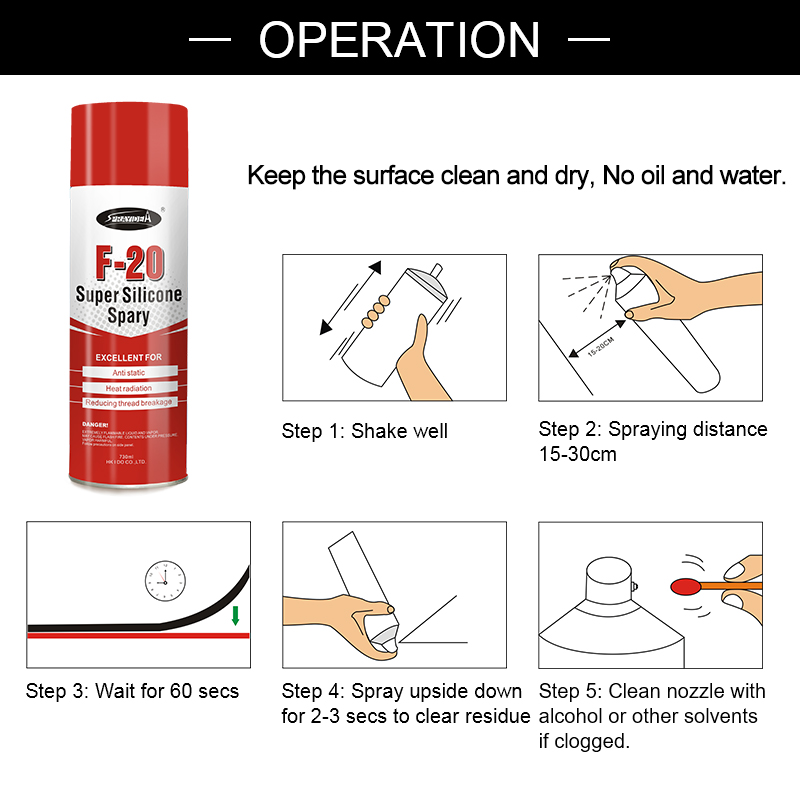 Caution
Pressurized packing, may be explosive in high temperature. Keep well-ventilated, avoid the glue contacting with skin when using.

Should be stored in well-ventilated, dark, cool, dry place.

Do not store above 49℃, recommended storage at below 30℃.

Keep the children away from it ,spray the adhesive out completely before you throw it away.

When the adhesive contacted with skin or eyes, please clean with water. Serious please go to the doctor immediately.