Spray Glue For Insulation Applications
Sprayidea 32 spray glue for insulation Upholstery Spray Adhesive is widely used to bond sponge, foam, leather, carpet, underlay, upholstery, plastic to themselves or other substrates, like wooden board, metal, glass, etc.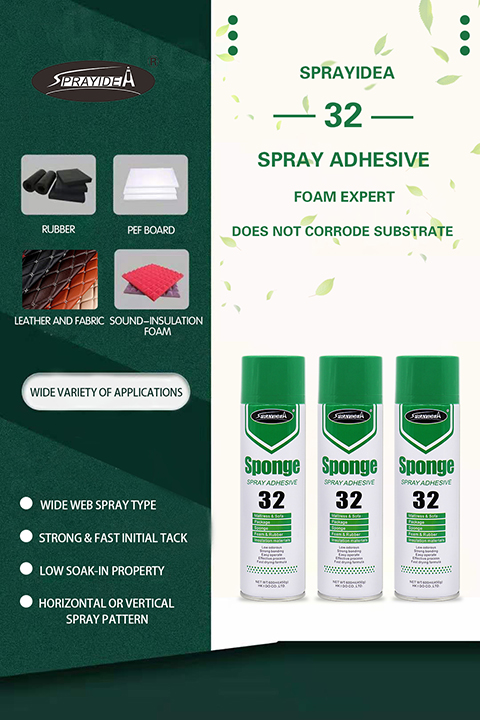 Specification of polystyrene insulation spray adhesive
| | | | |
| --- | --- | --- | --- |
| Item No.: | Sprayidea 32 | Size: | 450g/550ml |
| MOQ | 1200 | Bonding | Permanent |
| Package: | 24 pieces/carton | Coverage: | 8-12㎡ |
| Spray pattern: | Web | Effect time: | 30-60 seconds |
| Shelf life: | 24 months | Country of Origin: | China |
| Anti-aging: | 3-5 years | Scent: | Low odor |
| Color: | White | Temperature resistance: | -30℃ to 65℃ |
Details of spray adhesive for polystyrene insulation
Sprayidea32 soundproofing foam spray glue is a item designed for bonding acoustic foam, rubber, fabric, paper and many other substrates to a wide variety of flat surfaces. Acoustic foam spray glue can also be safely used on the polystyrene foam insulation board with no corrosion. The substrates normally are sprayed both surfaces, setting 30 – 60 seconds, then bond one surface to other surface. Heavy duty foam spray glue provides fast and strong initial tack, with adjustable actuator, very easy to use.
Features of foam spray adhesive
Strong bonding strength, playing fast, easy to use, improving work efficiency, pasting quickly.
High solid content, low soak-in property, impact resistance, vibration resistance chemical resistance and corrosion resistance.
Flexible and convenient operation, uniform spray of fine particles, effectively reducing production and processing costs.
Insulation glue spray non-toxic by SGS testing, free benzene and chlorine-based solvents. Very friendly to the environment. Moreover, meet the most stringent export standards.
Maybe you want to get more choices for Sponge Spray Adhesive. Please contact us! Anyway, as a manufacturer, we will definitely be able to give you the best quality service
Instruction of spray adhesive for foam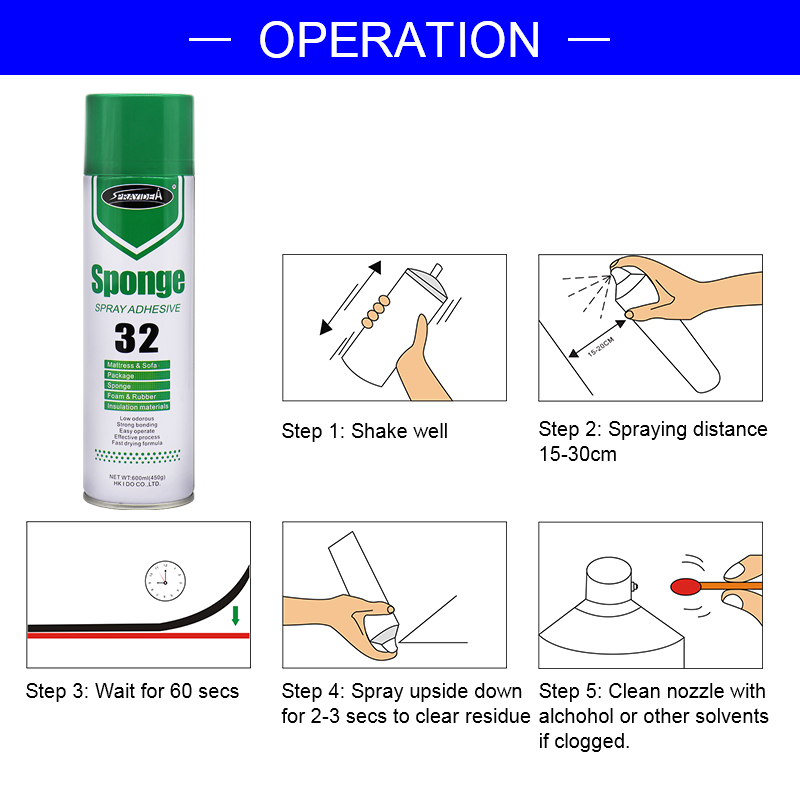 Keep the surface clean and dry, No oil and water.
Please shake well before use, to achieve the best effect.
Evenly spray the glue for a distance of 15-30 cm to the adhesive surface.
After using please keep the can down, spray about 2 to 3 seconds to avoid nozzle clogged, the best temperature of using this product is 15℃~35℃.
Clean nozzle with alcohol or other solvents if clogged.
Caution
Pressurized packing, may be explosive in high temperature.
Keep well-ventilated, avoid the glue contacting with skin when using.
Should be stored in well-ventilated, dark, cool, dry place.
Do not store above 49℃, recommended storage at below 30℃.
Keep the children away from it ,spray the adhesive out completely before you throw it away.
When the adhesive contacted with skin or eyes, please clean with water. Serious please go to the doctor immediately.
FQA
Q1: How many cans of product are in per box?
A1: There are 24 cans per box.
Q2: What is the expired date?
A2: This product has 2 years' service life.
Q3: How is your product quality?
A3: We are manufacturer, from the cans to finished products, are all produced by us. We have strict QC for checking each batch before transporting to our customers and guarantee the equality of our products. Rather than what we said, I would like to send you samples so that you can experience our products.