Spray Glue For Insulation Applications
Sprayidea Sponge Spray Adhesive 32 is a spray glue suitable for sponge materials, commonly used for bonding materials such as sponge, foam, latex, leather, fiber, fabric, wood, and metal. Specifically, it can be used for bonding the following materials:
Sponge/foam

: suitable for various hardness and density sponge materials, such as foam boards, foam tubes, etc.

Latex/rubber

: suitable for various latex, rubber, plastic, and other materials.

Leather/fiber

: suitable for bonding various leather and fiber fabrics, such as leather products, fabric materials, etc.

Wood/metal

: suitable for bonding various wood and metal materials, such as furniture, toys, metal products, etc.
Besides, it can also use to hang wallpaper. When using Sprayidea Sponge Spray Adhesive 32 to paste wallpaper, its nozzle is designed to spray the adhesive evenly on the wall. Its low VOC formula ensures that the entire operation process and subsequent living environment are safe. Additionally, it allows for repeated pasting, and even if there are wrinkles during the pasting process, the wallpaper can be easily torn off and readjusted. That is why it is also known as spray adhesive for peel and stick wallpaper.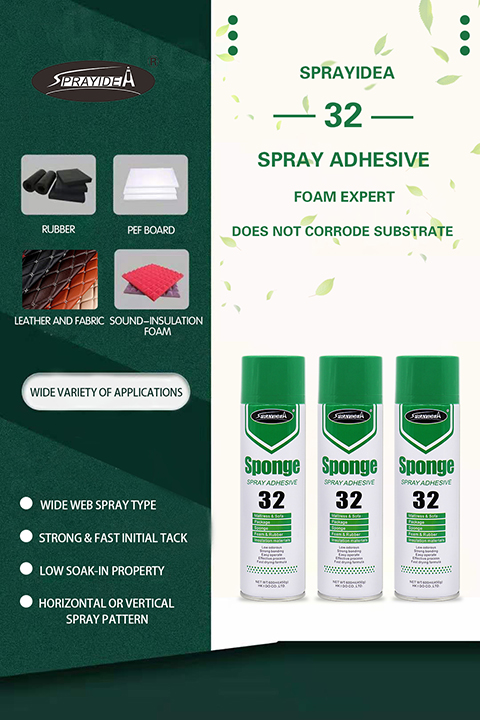 Specification of polystyrene insulation spray adhesive
| | | | |
| --- | --- | --- | --- |
| Brand: | Sprayidea | Color: | White |
| Item No.: | 32 | Scent: | Low |
| Gross weight: | 450g | Spray pattern: | Web |
| Volume: | 550ml | Coverage: | 8-12㎡ |
| Country of origin: | China | Bonding: | Permanent |
| Carton measurement: | 400*270*255mm | Heat resistance: | -30℃~65℃ |
| MOQ: | 1200PCS | Effective time: | 30-60s |
| Carton quantity: | 24 bottles | Open time: | 15-30m |
| Pallet quantity: | 50 cartons | Cure time: | 24h |
| 20GP quantity: | 1007 cartons | Shelf life: | 2 years |
| 40HQ quantity: | 2290 cartons | Anti-aging: | 3-5 years |
Details of spray adhesive for polystyrene insulation
Sprayidea32 soundproofing foam spray glue is a item designed for bonding acoustic foam, rubber, fabric, paper and many other substrates to a wide variety of flat surfaces. Acoustic foam spray glue can also be safely used on the polystyrene foam insulation board with no corrosion. The substrates normally are sprayed both surfaces, setting 30 – 60 seconds, then bond one surface to other surface. Heavy duty foam spray glue provides fast and strong initial tack, with adjustable actuator, very easy to use.
Features of foam spray adhesive
Strong bonding strength, playing fast, easy to use, improving work efficiency, pasting quickly.
High solid content, low soak-in property, impact resistance, vibration resistance chemical resistance and corrosion resistance.
Flexible and convenient operation, uniform spray of fine particles, effectively reducing production and processing costs.
Insulation glue spray non-toxic by SGS testing, free benzene and chlorine-based solvents. Very friendly to the environment. Moreover, meet the most stringent export standards.
Maybe you want to get more choices for Sponge Spray Adhesive. Please contact us! Anyway, as a manufacturer, we will definitely be able to give you the best quality service
Instruction of spray adhesive for foam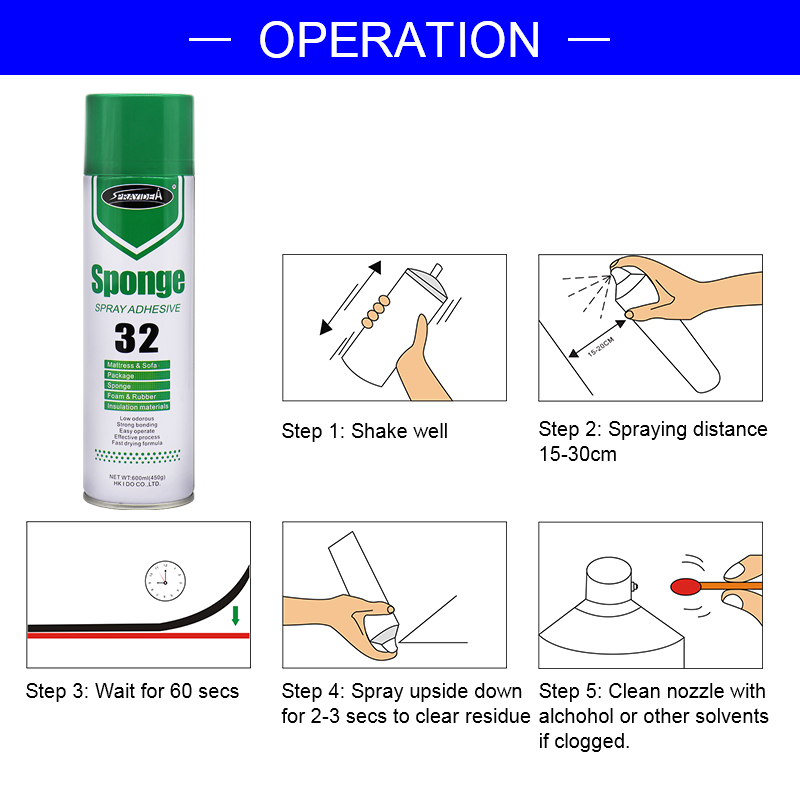 Keep the surface clean and dry, No oil and water.
Please shake well before use, to achieve the best effect.
Evenly spray the glue for a distance of 15-30 cm to the adhesive surface.
After using please keep the can down, spray about 2 to 3 seconds to avoid nozzle clogged, the best temperature of using this product is 15℃~35℃.
Clean nozzle with alcohol or other solvents if clogged.
Caution
Pressurized packing, may be explosive in high temperature.
Keep well-ventilated, avoid the glue contacting with skin when using.
Should be stored in well-ventilated, dark, cool, dry place.
Do not store above 49℃, recommended storage at below 30℃.
Keep the children away from it ,spray the adhesive out completely before you throw it away.
When the adhesive contacted with skin or eyes, please clean with water. Serious please go to the doctor immediately.
FAQ About Castor
How is your product quality?
We are manufacturer, from the cans to finished products, are all produced by us. We have strict QC for checking each batch before transporting to our customers and guarantee the equality of our products. Rather than what we said, I would like to send you samples so that you can experience our products.
Can I have my own label?
OEM & ODM services are available, but their MOQ is more higher than regular product. Please consult with our professional sales for more details.