Applications of Sprayidea 81 Embroidery Spray Adhesive
Sprayidea 81 is a Machine Embroidery Spray Adhesive with the latest safe formula. This spray glue is suitable for any fabric products that require safety. Under the premise of meeting the performance requirements, it can ensure health, environmental protection and no pollution. It will not produce any harmful substances. Sprayidea 81 complies with the EU REACH standard and meets many industry process standards, such as SGS certification. Most customers use this glue on baby clothes, underwear, white fabrics, toys and other high-end temporary bonding. You can use it in any situation where you need to paste light material. For example, you can use it to paste embroidery products, and it can also be used for daily hand paste.
Specification
| | | | |
| --- | --- | --- | --- |
| Item No.: | Sprayidea 81 | Size: | 450g/550ml |
| Package: | 24 pieces/carton | Bonding: | Temporary |
| Spray pattern: |  Mist | Effect time: | 30-60 seconds |
| Shelf life: | 24 months | Country of Origin: |  China |
| Color: | Clear | Scent: |  Low odor |
| Remain tacky for: | 45 minutes | Composition: |   No CFCs |
Features
The third generation formula, colorless and odorless;
Fast tack, superior adhesion;
Long operation time, repositionable;
REACH standard, no chlorinated solvents, formaldehyde free.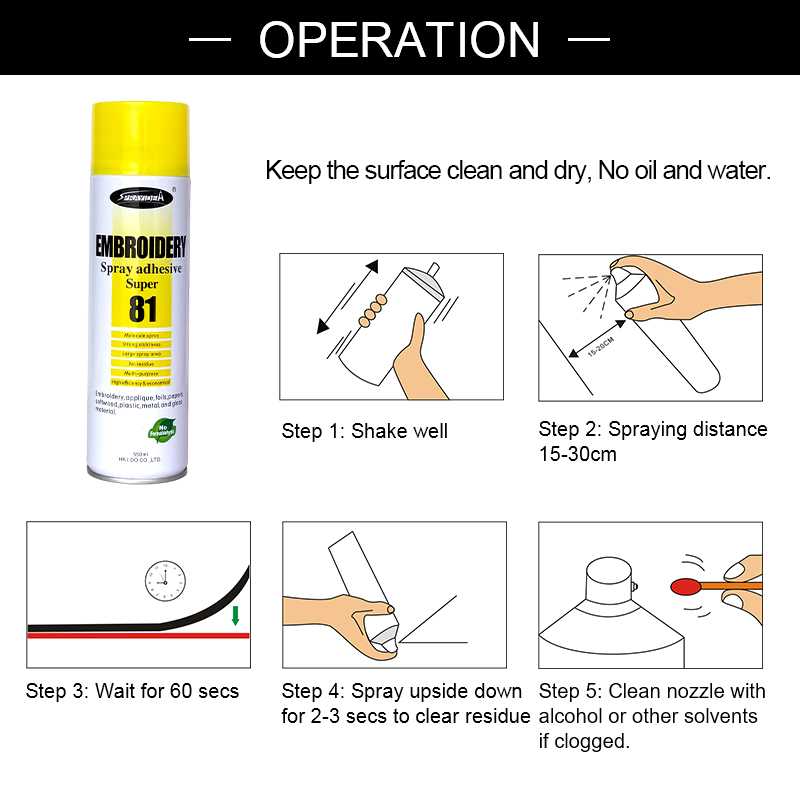 Keep the surface clean and dry, No oil and water.
Please shake well before use, to achieve the best effect.
Evenly spray the glue for a distance of 15-30 cm to the adhesive surface.
After using please keep the can down, spray about 2 to 3 seconds to avoid nozzle clogged, the best temperature of using this product is 15℃~35℃.
Clean nozzle with alcohol or other solvents if clogged.
Caution
Pressurized packing, may be explosive in high temperature.
Keep well-ventilated, avoid the glue contacting with skin when using.
Should be stored in well-ventilated, dark, cool, dry place.
Do not store above 49℃, recommended storage at below 30℃.
Keep the children away from it ,spray the adhesive out completely before you throw it away.
When the adhesive contacted with skin or eyes, please clean with water. Serious please go to the doctor immediately.