Sprayidea 92 Multi-purpose Spray Adhesive Applications
Sprayidea 92 Industrial Multipurpose Spray Adhesive is suitable for bonding all kinds of light materials such as paper, fabric, foam, plastic, acrylic etc. Especially in composites applications, it plays a significant role in bonding carbon fiber and fiberglass in temporary positioning.
Best Adhesive For 3D Printing Bed
Sprayidea 92 is a versatile adhesive, and its applications extend to 3D printing. Here's why this adhesive works in 3D printing:
Enhancing 3D Printing:
For 3D printing, the quality of the bond is critical. Sprayidea 92 also plays a key role here. Its ability to securely bond lightweight materials. So it is suitable for adhering to 3D printing substrates. And make sure they stay firmly in place throughout the printing process.
Minimizing Warping:
Sprayidea 92 provides an even and reliable bonding surface for the first layers of 3D-printed parts. It can prevent warp. In this way, you will get a successful 3D printing model..
Easy Removal:
One of the advantages of Sprayidea 92 is that it allows temporary positioning. After the 3D print is complete, you can easily move the object from the printing bed. And you'll find it won't leave any residue or damage your print.
Wide Compatibility:
Sprayidea 92's compatibility with materials commonly used in 3D printing, including plastics and acrylics. This ensures its versatility in various printing applications.
Specification of 92 Multi-purpose Spray Glue
| | | | |
| --- | --- | --- | --- |
| Item No.: | Sprayidea 92 | Size: | 450g/550ml |
| Package: | 24 pieces/carton | Bonding: | Temporary & Permanent |
| Spray pattern: |  Mist | Effect time: | 30-60 seconds |
| Shelf life: | 24 months | Country of Origin: |  China |
| Color: | Clear | Scent: |  Low odor |
| Remain tacky for: |  60 minutes | Temperature resistance: |  -30℃to 65℃ |
Features of Sprayidea 92 multi purpose Adhesive Spray
Temporary & permanent bonding available.
Free of formaldehyde, benzene and chlorinated solvent, environment-friendly, non-toxic.
Spraying coverage is 2 times larger than similar products.
Two different nozzles offer different effects to meet various requirements.
High solid content, excellent performance.
Maybe you want to get more choices for Carbon Fiber Spray Adhesive, please contact us! Anyway, as a manufacturer, we will definitely be able to give you the best quality service
Instruction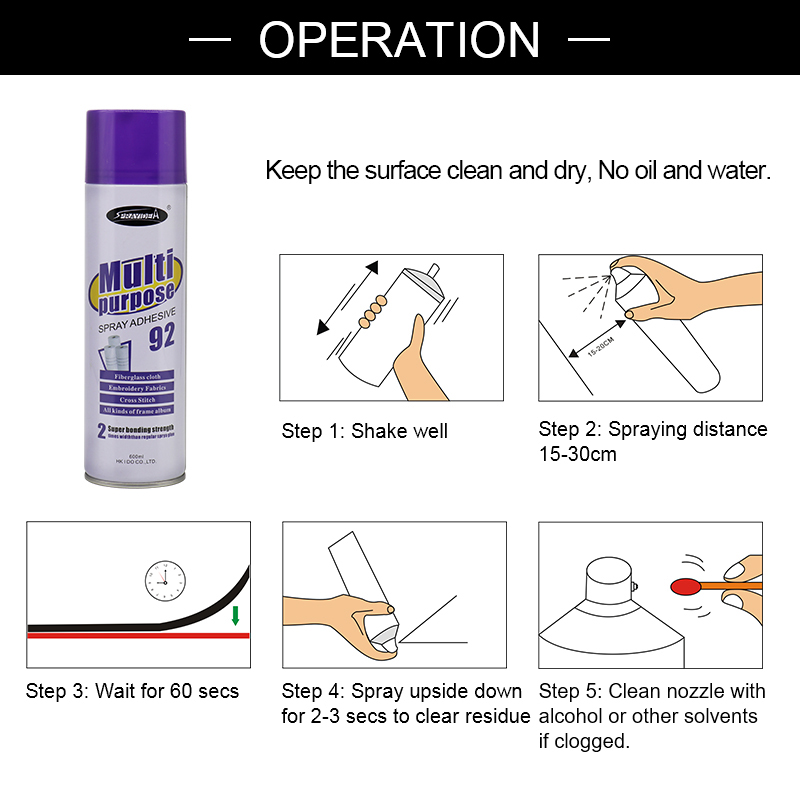 Keep the surface clean and dry, No oil and water.
Please shake well before use, to achieve the best effect.
Evenly spray the glue for a distance of 15-30 cm to the adhesive surface.
After using please keep the can down, spray about 2 to 3 seconds to avoid nozzle clogged, the best temperature of using this product is 15℃~35℃.
Clean nozzle with alcohol or other solvents if clogged.
Caution of Sprayidea 92
Pressurized packing, may be explosive in high temperature.
Keep well-ventilated, avoid the glue contacting with skin when using.
Should be stored in well-ventilated, dark, cool, dry place.
Do not store above 49℃, recommended storage at below 30℃.
Keep the children away from it ,spray the adhesive out completely before you throw it away.
When the adhesive contacted with skin or eyes, please clean with water. Serious please go to the doctor immediately.