Applications of spray adhesive for sound absorbing foam
Sprayidea 93 Acoustic Material Spray Adhesive is designed to work on fiber, urethane foam, fabrics, vinyls, wood, paper, metal and leather. It is mainly applied to theater, stadium, studio and other sound insulation decoration.
Specification of sound insulation foam glue spray
| | | | |
| --- | --- | --- | --- |
| Item No.: | Sprayidea 93 | Size: | 450g/550ml |
| Package: | 24 pieces/carton | Coverage: | 8-12㎡ |
| Spray pattern: |  Web | Heat Resistance: |  -30℃to 65℃ |
| Bonding: |  Permanent | Shelf life: |  24 months |
| Country of Origin: | China | Effect time: | 30-60 seconds |
Features of spray adhesive for sound insulation foam
A better soft pliable bond for acoustic materials;
Low odor, eco-friendly;
Adjustable web spray nozzle, flexible operation;
No corrosion to foam.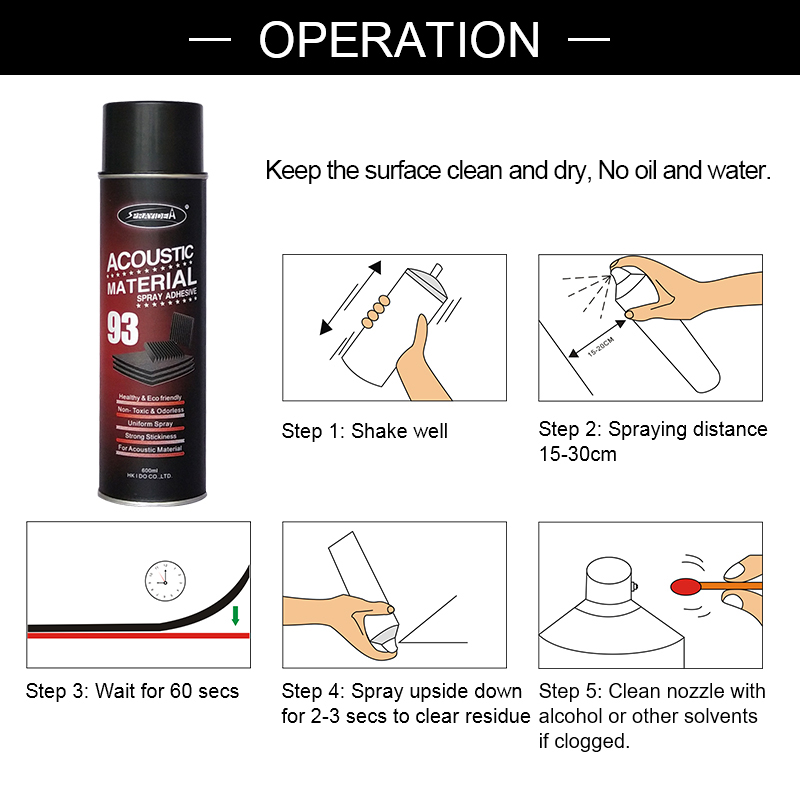 Keep the surface clean and dry, No oil and water.
Please shake well before use, to achieve the best effect.
Evenly spray the glue for a distance of 15-30 cm to the adhesive surface.
After using please keep the can down, spray about 2 to 3 seconds to avoid nozzle clogged, the best temperature of using this product is 15℃~35℃.
Clean nozzle with alcohol or other solvents if clogged.
Caution of spray adhesive for foam
Pressurized packing, may be explosive in high temperature.
Keep well-ventilated, avoid the glue contacting with skin when using.
Should be stored in well-ventilated, dark, cool, dry place.
Do not store above 49℃, recommended storage at below 30℃.
Keep the children away from it ,spray the adhesive out completely before you throw it away.
When the adhesive contacted with skin or eyes, please clean with water. Serious please go to the doctor immediately.