Applications of SUPER 88 Spray Adhesive for Fabric
This product is a temporary spray glue called "Super 88" by Sprayidea, specially designed for embroidery. The Super 88 makes it easy to hold the fabric on the embroidery machine for precise and efficient embroidery. It provides a strong bond on a wide variety of fabrics and materials while also peeling off easily without leaving a trace. It does not with harmful substances such as chlorofluorocarbons or formaldehyde, ensuring the safety of users.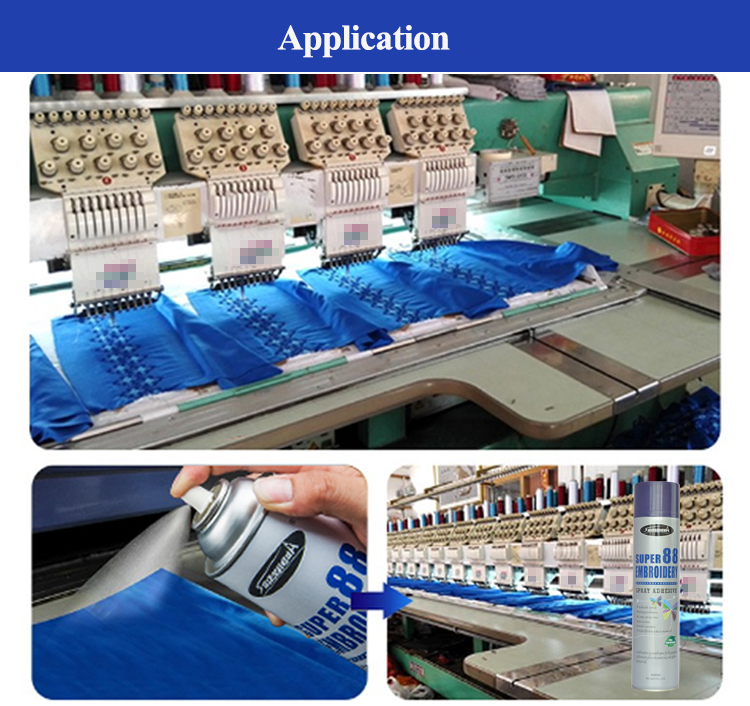 Features of super 88 spray adhesive
Sprayidea 88 Embroidery Spray Adhesive is a strong-sticky adhesive perfect for applique, quilting and some handicraft etc. It works well in temporarily bonding lining to the back of clothing, and also can be used to hold appliques to fabric prior to sewing or embroidery. Here are the benefits of super 88:
Long operation time, cost-effective;
Suitable for white fabric;
Non-staining, no gumming up needles;
Odorless and colorless, SGS non-toxic test approval, no chlorinated solvents, no CFCs, formaldehyde free.
Maybe you want to get more choices for spray adhesive for embroidery, don't hesitate to get in touch with us! Anyway, as a manufacturer, we will definitely be able to give you the best quality service
Specification
| | | | |
| --- | --- | --- | --- |
| Item No.: | Sprayidea 88 | Size: | 390g/600ml |
| Package: | 24 pieces/carton | Bonding: | Temporary |
| Spray pattern: | Mist | Effect time: | 30-60 seconds |
| Shelf life: | 24 months | Country of origin | China |
| Color: | Clear | Scent: | Low odor |
| Remain tacky for | 30 minutes | Composites: | No CFCs |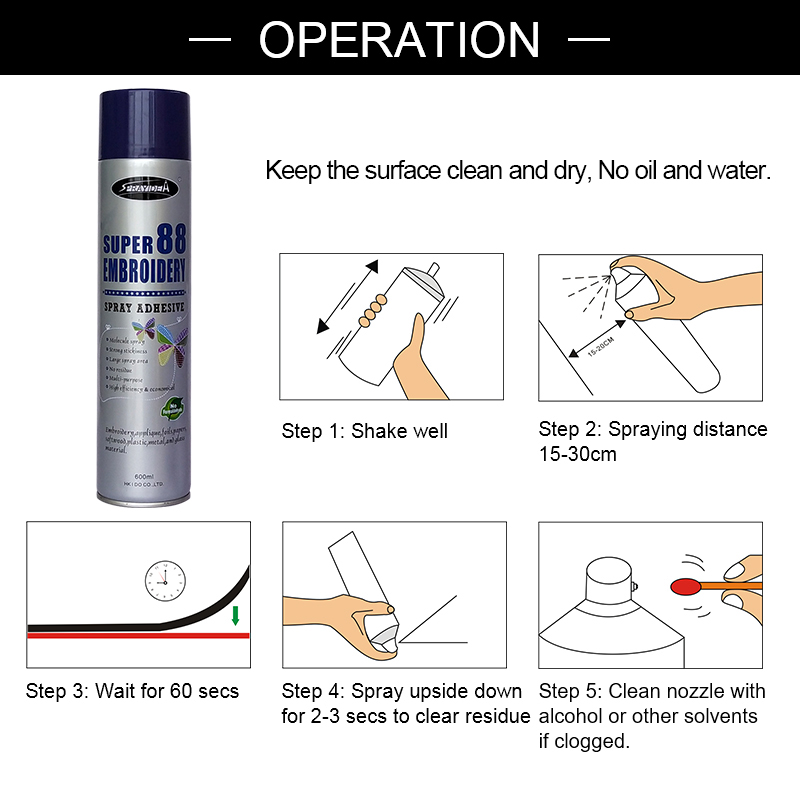 Keep the surface clean and dry, with no oil and water.
Please shake well before use to achieve the best effect.
Evenly spray the glue for 15-30 cm to the adhesive surface.
After using, please keep the can down, and spray for 2 to 3 seconds to avoid nozzle clogging. The best temperature for using this product is 15℃~35℃.
Clean the nozzle with alcohol or other solvents if clogged.
Caution
Pressurized packing may be explosive at high temperatures.
Keep well-ventilated, and avoid the glue from contact with the skin when using.
It should be stored in a well-ventilated, dark, cool, dry place.
Do not store above 49℃. Recommended storage at below 30℃.
Keep the children away from it, and spray the adhesive out completely before you throw it away.
When the adhesive comes into contact with the skin or eyes, please clean it with water. Seriously please go to the doctor immediately.